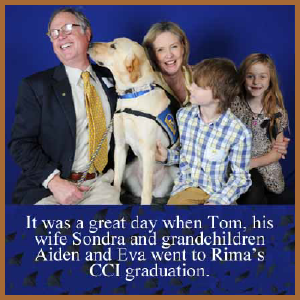 Hello Friends,
One of the joys of my life is the privilege of raising dogs for a wonderful organization called Canine Companions for Independence. The sweet dog in this picture is named Rima; she is the seventh dog my wife and I have raised as an assistance dog for a person with a disability.
After raising her for 18 months as volunteer Puppy Raisers, Rima was handed back to CCI for 6 months of Professional Training. She then – we are proud to report – was placed as a Full Service dog with a graduate who lives right here in southern California.
The mission of Canine Companions for Independence is to enhance the lives of people with disabilities by providing highly trained assistance dogs. If you would be interested in raising a puppy or contributing to the CCI Mission in some other way, learn more at www.cci.org.
Tom Sandler
Owner
The Frame Station